Corporate Social Responsibility Initiatives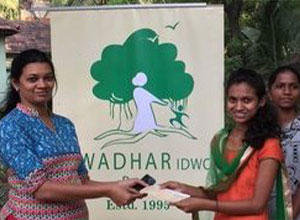 As a socially responsible corporate citizen, ELANTAS Beck India's Corporate Social Responsibility (CSR) philosophy aims at "giving back to society".
ELANTAS Beck India focuses on promoting education as its primary Corporate Social Responsibility objective and may add other relevant objectives supporting the above-mentioned philosophy. In pursuing the CSR objectives, ELANTAS Beck India endeavours to adopt an organised approach to spending the allocable funds.
As a vigilant corporate citizen, ELANTAS Beck India has been keeping a close eye on the events and developments in a changing environment. The thought process got a major boost from a new regulatory directive specifying that a certain amount of a company's income should be spent on philanthropic activities.
Against this backdrop, ELANTAS Beck India is proud to support projects in the fields of education, environment, health, and hygiene. Some of these projects are specifically mentioned below as they have become "landmarks" for other companies.
1. Development of educational material for hearing impaired children in the Pune district
Background
Suhrud Mandal is a registered NGO working for educational and vocational training rehabilitation of children with hearing impairment. In early years, Suhrud Mandal tried to reach out to the interior of Maharashtra. Suhrud Mandal started altogether 39 schools in the rural part of Maharashtra.
No hearing often means no language, no academics, limited financial independence, and poor quality of life. This handicap not only affects education and social development, but it also affects the overall development of a child.
In order to overcome the hurdles posed by this disability and to bring the hearing impaired children into the main stream, and to transform their lifestyle, a group of like-minded people established. Suhrud Mandal on 1st April 1973. The first Suhrud School was opened at Bhandarkar Road, Pune. At present Suhrud is running four schools in Pune City.
Educational and social rehabilitation of the hearing-impaired
To provide education to the hearing-impaired student, by establishing special schools
To help those with better capacity to get integrated in normal schools
To ensure that children with hearing impairment lead a normal and independent life
ELANTAS Beck India's Support
Provision of a computer lab
Provision of furniture items
Provision of hearing aids
Distribution of 1st to 4th grade Samantar Pathyapustak in 20 schools in the Pune district
Development of 5th grade Samantar Pathyapustak for Social Science, Languages, and Environmental Science
Printing of 5th grade Samantar Pathyapustak for Social Science, Languages, and Environmental Science
2. Shelter Associates, Pune – "City-wide Slum Sanitation Project" in PCMC area
Background
Shelter Associates ("Shelter") is a NGO working in Maharashtra since 1993, having offices in Pune and Sangli. Shelter collaborates with the urban poor, particularly women, in informal settlements to facilitate and provide community-managed slum rehabilitation housing and essential services including sanitation. Since 1993, Shelter has covered over 4,000 families with individual toilets and affected over 50,000 persons with just the sanitation program including individual and community toilets. Shelter has also built good quality housing for over 1,800 families.
Shelter is currently engaged in the "City-wide Slum Sanitation Project" in Pune which advocates for 'One home-One toilet' in urban slum houses as against the traditionally promoted community toilet blocks have found put a large burden of continuous maintenance on the Pune Municipal Corporation ("PMC"). Shelter has an on-going project with PMC since 10th February 2014, and over the past 15 months. They have already conducted rapid appraisal surveys for all 317 eligible slums across Pune and constructed over 1,500 individual toilets (on cost-sharing basis, with households contributing about 30 % of total toilet cost).
ELANTAS Beck India's Funding support
ELANTAS Beck India Ltd. in its pursuit of CSR initiatives, particularly under the "Swachh Bharat Abhiyan", has identified Shelter associates due to the reference and recommendation of Forbes Marshall, engaged in supporting the "City-wide Slum Sanitation Project" in the PCMC area. The said project will advocate for 'One home-One toilet' in PCMC slum houses as against the traditionally promoted community toilet blocks.
To carry out this activity we have chosen the Prabhag N0.41- Gandhinagar Slum Area and Kate Vasti. The Slum is located in Word C of PCMC, opposite ELANTAS Beck India's production site. The people are very keen to build their own individual toilets.
3. Vanarai, Pune - "Sustainable and Integrated Rural Development "
Background
Dr. Mohan Dharia formed the Vanarai Organization in the year 1982 and after securing success, it was registered under the Charitable Trust Act in 1986.
The Main objectives of Vanarai are
Integrated rural development
Afforestation
Creation of self-reliant, clean and green villages and preventing migration to cities with active involvement of the people
Empowerment of women and youth
During the last 28 years, Vanarai has reached out to all parts of Maharashtra and outside. Vanarai is now recognized as one of the major voluntary organizations, both at the state and national level.
Major achievements:
Vanarai has so far successfully made several strides including the following major achievements:
Vanarai is working in more than 250 villages with the objective of making them self-reliant. They insist on clean, green, self-reliant villages, afforestation, agriculture with modern methods, animal husbandry, and latrine and gober gas for every house, eradication of illiteracy, family planning, and creating local employment opportunities. With the involvement of people, Vanarai has now become a peoples' movement.
Development of waste and degraded lands
At the time when the founder of Vanarai, Dr. Mohan Dharia, was Dy. Chairman of the Planning Commission of India, he emphasized the need to make all natural resources, including the lands, productive with additional production and forest areas lush green. More that 2,500 ha in several villages, which were, degrade or wastelands, have been made productive by Vanarai.
Vanarai has 13 training centers in various part of Maharashtra. Small duration training courses related to skill enhancement, modern methods of agriculture, horticulture etc. are conducted in these centers.
Initiating Process of Reverse Migration
Vanarai insists on developing self-reliant, clean and green villages. This has resulted in creating many gainful employment opportunities in the villages. "Gawadewadi and Varandh" are model villages where 165 and 65 families respectively have come back from filthy slums of cities like Mumbai and Pune and they are leading better lives. This process will considerably help in saving our cities.
Vanarai implements a project of Public Sanitation during Ashadhi Palakhi Sohala, since the last eight years in co-operation with the Pollution Control Board.
remarkable achievements, like the Instrumental for Employment Guarantee Scheme and other programs, tanker free villages, Joint Forestry Management, Eco clubs, plantation, etc.
Objectives of the sustainable rural development programme are
provide state of the art education facilities to rural children of Bhivri and Patharwadi, which are at par with urban educational facilities
To create awareness about and aid implementation of health, hygiene, and sanitation practices by the villagers, through construction of toilets, provisions of drainage system health camps, Jan jagruti awareness programme
To provide facilities for water conservation, drinking water availability, fodder availability, soil conservation, ground water recharge, etc.
Beck India's Ltd funding Support to Vanarai (2016-2018)
Providing better infrastructure in ZP school
Toilet blocks in schools
Water purifiers
E-learning kits and science lab material
Individual toilets for the villagers